TITANIUM TORR G5 41,0 TF SE Tamper - Titan Grade 5 Trapeze Flat Sharp Edge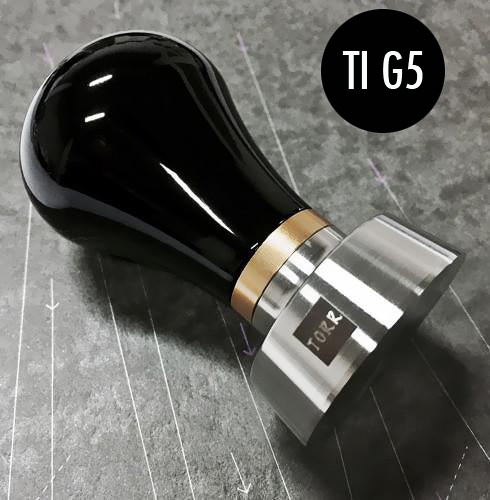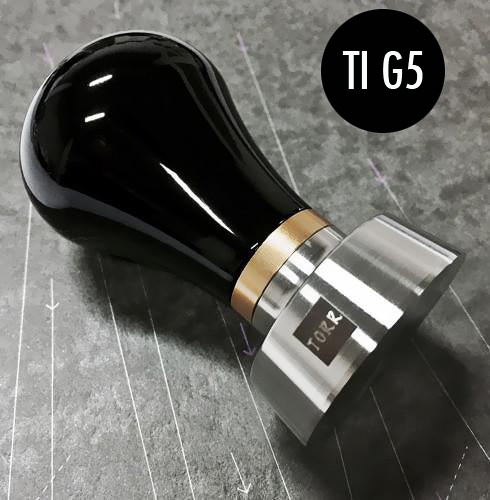 TITANIUM TORR G5 41,0 TF SE Tamper - Titan Grade 5 Trapeze Flat Sharp Edge
TORR TI 41,0 TF SE Tamper available with different types of Handles.
Please choose wood of category OPWZ** = Olive, Palisander, Walnut, Zebra Wood after "Purchase Click"
Brief Product Information
Titan Grade 5 ø 41.0 mm / 20mm trapeze flat base with a sharp edge. Hand-polished semi-matte finish and black TORR logo. Handmade wooden handles in different sizes and colors - high gloss polished with natural wax. Three spacer/washer options to set the right height. Inner thread M12 + pin.
Weight: TI- Base: 95 gr - Wooden GF Handle: From 35 gr Zebra Wood - 60 gr African Blackwood - Washer 3/5/8 - 8/14/21 gr - Wooden XS & Classic Handles handles approx. + 25%.
Each wooden handle is handmade and unique concerning the grain and texture of the wood as its a natural product.
Additional Information
Based on the Classic TORR Tamper we developed the modular trapeze flat sharp edge concept - TF SE - which is presented in many different handles and sizes to satisfy all barista needs. The 41.0 mm size is used for the VST/ La Marzocco Single Baskets. We recommend the shorter GF handle + 8mm washer of your choice for this TORR SE tamper to get a better, more sensitive feel for the process.
The Titanium Grade 5 material offers a lightweight tamper with a maximum stability and durability. It is an extraordinary professional tool with a touch of luxury.
If you wish to make any compromises and like the special, this will be the tamper of your choice to last.
Order: 1. Olive Wood (start) 2. African Blackwood Bicolor 3. African Blackwood Bicolor 4. African Blackwood Black 5. Bahia Rosewood 6. Bahia Rosewood Bicolor 7. Zebrawood 8. Palisander 9. Olive 10. Walnut